How automation has changed a pharmacy for the better
Curtis Ruhnau, who is the co-owner of the Emerton Amcal + Pharmacy and PDL (Pharmaceutical Defence Limited) Director for NSW and ACT, has recently spoken about what he has achieved with automation in his pharmacy. Find out what he has to say about his experience with the BD Rowa™ Team and their products.
Please describe your pharmacy in a few words – and tell us for how long you've been running it.
We are just a Mum and Dad community pharmacy. Margaret and I have been here 22 years and we both still work here, and we enjoy being pharmacists. Like many community pharmacies, we know most of our patients by name, and they know ours.
How did you first hear about BD Rowa™ and what interested you most about it?
We enjoy being pharmacists, and anything which can give us more time with our patients is a good thing. We spend a lot of time working on our processes, trying to maximise our productivity, and the BD Rowa™ Automatic Dispensing Robot seemed like a logical step when we were designing a new fitout. We're so glad we did.
What goals did you want to achieve for your pharmacy? What were the main reasons that you decided to invest in a BD Rowa™ Vmax?
More time with our patients, happier staff, happier us and less time marking off orders. We did look at a couple of other brands, but we chose BD Rowa™ because it had the biggest feature set of them all, particularly the BD Rowa™ ProLog which makes loading our orders into the machine so simple and quick for us. We take our order and load it into the hopper, press a few buttons and we can go back to spending our time with our patients– which is after all what we pharmacists want to do – while the BD Rowa™ ProLog puts the stock away for us.
Can you please take us on a journey and describe your experience working with the BD Rowa™ Team and In-house Architect?
Our BD Rowa™ Technicians were great, both on the install – they gave us some tips on how we could manage it – and then also when it came to actually commissioning the machine. We were able to describe what we wanted, the designers then understood what we needed and delivered it pretty quickly and easily for us straight through to our shopfitters. It's stressful when you know one part of your design/fitout team is waiting on another and that wasn't a problem for us with the BD Rowa™ Team.
Did it take time to get used to it? What were the biggest changes to routines and where did you notice the first improvements?
No time at all. We involved our team in the design process and used ideas we had picked up elsewhere, along with the advice of some friends. And then we were on hand with our team as they put our plans into practice. It worked well from the first day – they made our planning look good! Biggest changes to routines? Putting away stock. It's so easy now … just put it into the hopper and let the machine do its thing.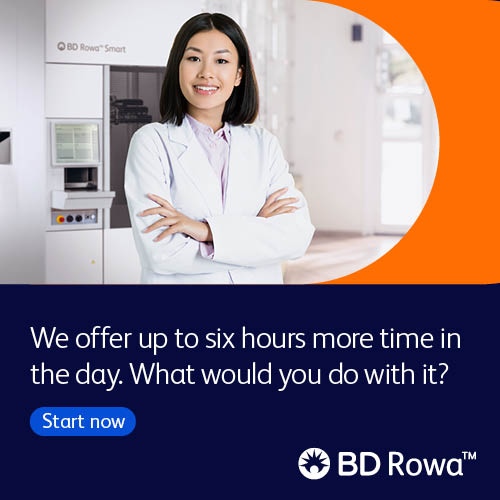 What have been the biggest day-to-day changes to your pharmacy since using the BD Rowa™ Robot? How have things changed for the better, and how has this impacted the quality of patient consultations, efficiencies and time saving?
We're all calmer. One person dispensing can work from a single spot and dispense most things without having to move because we designed each workstation to be autonomous and complete. The feeling is similar to when we decommissioned our last dot matrix printer – the sense of calmness in the pharmacy, even when we're busy, is really noticeable. Our staff love it, and as things have gotten busy and we've had staff that have been missing because of Covid, we've been able to cope with that. The machine has just kept going because we've had the capacity in the machine which helps us maintain our productivity even when our staffing is challenged.
How do you and your staff feel about your BD Rowa™ Automatic Dispensing Robot today? To what extent is it a fully integrated part of your team?
We deliberately haven't named our machine although I know a lot of pharmacies do. Our focus is on our patients, and I want our patients to be able to focus on our wonderful team. Having said that, it's like the best of our team members – just there, getting the job done without fuss.
Could you ever imagine running your pharmacy without your BD Rowa™ Automatic Dispensing Robot?
Heavens, no!
How would you describe the reliability of the Robot and support of the BD Rowa™ Team?
I was quite worried about 'uptime' and downtime'. So far, it hasn't been an issue. The BD RowaTM Team are there at the other end of the line for us whenever we have needed them, and they know how to prioritise for when we have needed help quickly. They've been great over the phone.
For Pharmacy owners considering automating with a BD Rowa™ Automatic Dispensing Robot, what would be your recommendations or advice to someone considering the investment?
Ask some questions, visit some friends, find out for yourself. And when you do it, get the integrated BD Rowa™ ProLog. The ability to just load an order into the hopper and walk away, knowing it'll be put away properly is life changing for all of us.
Articles you might be interested in