Kos Sclavos AM reveals Pharmacy Connect's Top 10 "must attend" sessions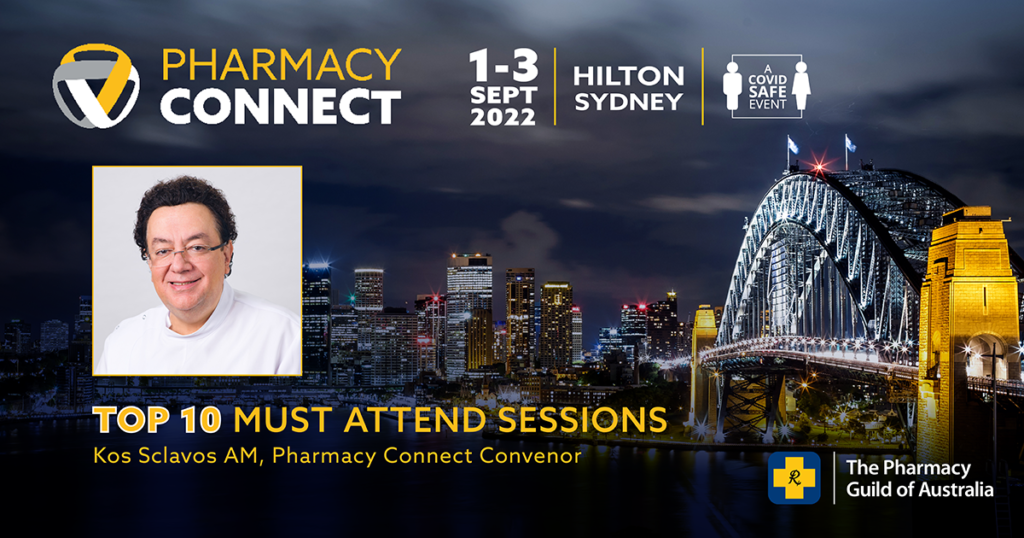 Pharmacy Connect Convenor Kos Sclavos AM today announced his top 10 session picks at the upcoming conference, held in just over five weeks on 1-3 September in Sydney.
"It was Albert Einstein who said, 'in the midst of every crisis, lies great opportunity' – COVID-19 has certainly delivered one hell of a crisis and community pharmacy has truly embraced the opportunities which have arisen," Mr. Sclavos said.
"The opportunities which have resulted from the pandemic are not over yet. Pharmacy Connect's rich education program will explore all of these opportunities, and more."
"The following are my top picks for the 2022 conference. Numerous sessions missed the cut, so I urge you to explore the full program at pharmacy-connect.com.au and bookmark your session preferences, based on your professional development needs and interests."
Here are the APP Convenor's top 10 must-attend sessions (in conference date and time order):
1/ Pharmacy Guild Industry Update (Friday AM)
Trent Twomey, Guild National President and Anthony Tassone, the Guild's Chair of Health Economics & Policy Committee, will provide this key industry update. So much has happened already in 2022. Find out what the new Commonwealth Government's position is on key pharmacy issues. What a great way to kickoff the conference program.

2/ Leadership matters (Friday AM)
Peter Baines OAM has spent the best part of his career leading teams as a strategic advisor in the face of international crisis and disaster. Having worked on the ground during the 2002 Bali bombings, the 2004 Indian Ocean tsunami and the 2011 Japanese tsunami, Peter has witnessed disaster and destruction on a large scale. His experience of leading in challenging times and making difficult decisions means he is an internationally respected voice on how businesses can prepare for and respond to any situation.

3/ mRNA Medicines – a public health game changer (Friday PM)
Whilst mRNA therapies have been in development for some time, the COVID-19 global pandemic saw these launched into the spotlight. The rapid pace of advancements in mRNA medicines has created an exciting buzz and pharmacists need to embrace this opportunity.

4/ Electronic prescriptions: shining a light on our digital health future (Friday PM)
As at March 2022, over 46 million electronic prescriptions have been issued in Australia and volumes continue to increase at an average of 3 per cent per week. The next steps include progressing Active script List optimisation and adoption as well as supporting the use of electronic prescribing.

5/ Community Pharmacy Industry Update (Friday PM)
As community pharmacy slowly exits the COVID-19 pandemic, now is the ideal time to review how the industry has performed across key categories and where the focus should be moving forward. Developing a strategy without data is nearly impossible. Very few pharmacy conferences include any sessions on how the overall pharmacy if performing. The data, presented by Sashi Anantham from IQVIA, will enlighten you.

6/ The economic environment and its impact on health and pharmacy services (Saturday AM)
Join Westpac Business Bank's Chief Economist, Besa Deda, who will provide an overview of Australia's macroeconomic environment including trends shaping the way we live, the downstream impact on health, and pharmacy services more broadly. If you have a loan you should attend!

7/ How to ensure consumers view pharmacy as a destination for pain solution (Saturday AM)
Even if you attend just to see the data on the pain category in pharmacy it will be worth your while. This is a panel session which will discuss the data. Traditionally, pharmacy has been viewed by consumers as a first stop for their pain solution due to convenience. Pharmacists, in turn, have referred patients on when required. Over recent years, pharmacy has lost this advantage. How can pharmacy return to their (first call) position?

8/ Positioning your pharmacy for success: Preparing a really useful pharmacy budget and understanding cashflow (Saturday AM)
This session will make budgets and cashflow sound relevant, necessary and hopefully convince you that having a budget can be really useful! With borrowing costs increasing this needs to become an area of focus for pharmacy owners and managers.

9/ Pharmacy rentals: COVID-19 impact – where are we heading? (Saturday PM)
Phil Chapman from Lease1 will outline some of the key takeouts from The Pharmacy Guild of Australia Rental Report. Meticulous planning is key before any rental negotiation.

10/ Judy Liauw Address – Hon Emma McBride MP (Saturday PM)
Emma McBride is the only pharmacist in the Federal Parliament. As the Assistant Minister for Mental Health and Suicide Prevention and Assistant Minister for Rural and Regional Health, Emma has significant
responsibilities in the Albanese government, where she fights for better health services for all Australians. Join Emma for this not-to-be-missed presentation.

Pharmacy Connect is open to all levels of pharmacy, from pharmacists, pharmacy managers, pharmacy staff and group executives, to interns and students.

The conference features pre-conference workshops, a two-day education program, a 50-stand trade
exhibition plus social networking opportunities pharmacyconnect.com.au.

Articles you might be interested in