Pharmacists encouraged to attend webinar to help patients control asthma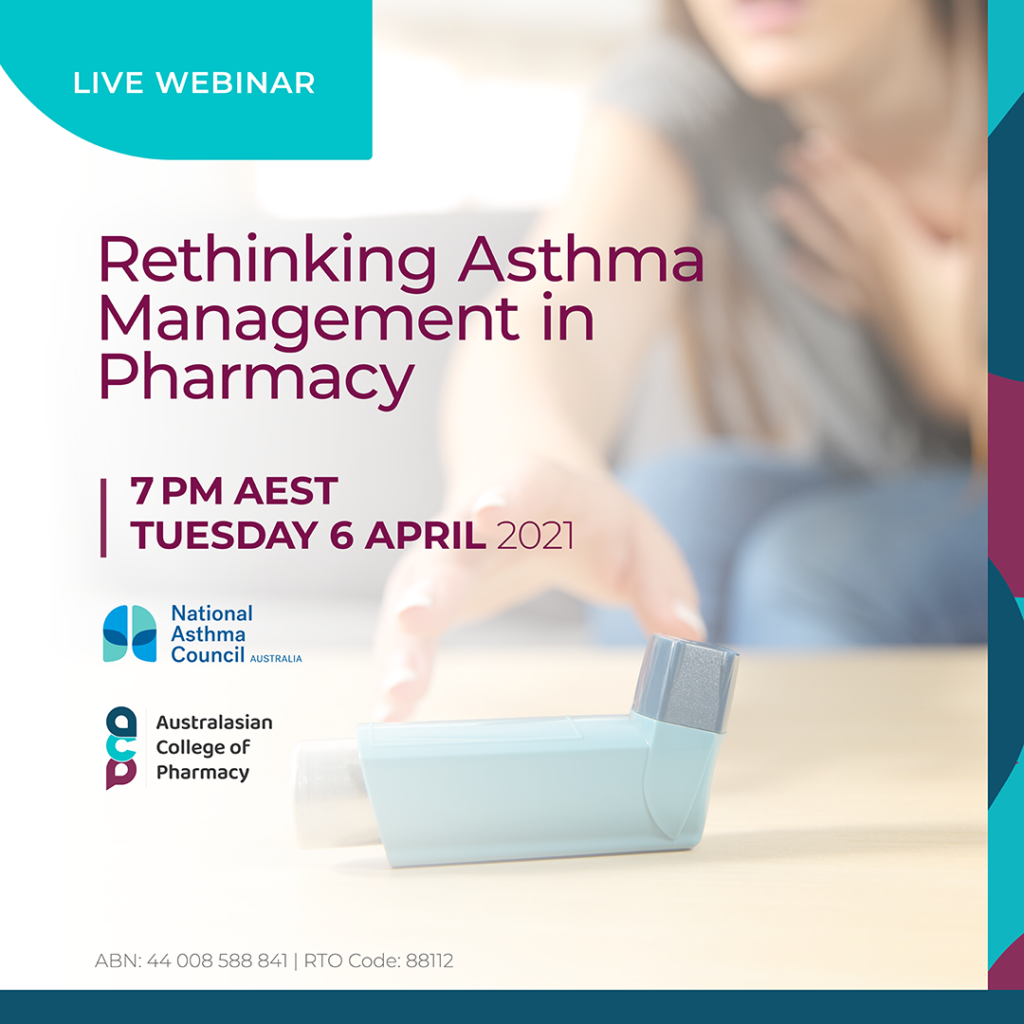 Asthma affects one in nine people in Australia and in 2019, 421 deaths were caused by asthma – most of which are preventable.1 With up to 90% of people not using their inhalers in the correct way, it's vital that pharmacists are up-to-date with the latest prescribing and asthma care information to support patients to control their asthma.

Pharmacists are invited to join the Australasian College of Pharmacy and the National Asthma Council Australia for their latest webinar update, 'Rethinking Asthma Management in Pharmacy', on Tuesday 6 April at 7pm AEST and 5pm AWST. Attendees will learn about prescribing appropriate medicines, as well as correct inhaler device technique and adherence to therapy.

The webinar is complimentary to Australasian College of Pharmacy members and $49 for non-members. Pharmacists in both Australia and New Zealand are encouraged to visit acp.edu.au to register today.

The webinar's key speaker is Debbie Rigby, an Advanced Practice Pharmacist with postgraduate qualifications in clinical pharmacy, geriatrics and respiratory medicine. Debbie is a member of Lung Foundation Australia COPD Advisory Committee and Primary Care Committee, and the International Primary Care Respiratory Group. Debbie is leading the National Asthma Council implementation of Asthma Right Care in Australia.
The Australasian College of Pharmacy's Chief Executive Officer, Dr. Dimitri Kopanakis said that it was an exciting time for the College and its members.

"We recently introduced the College's new engaging, contemporary and inclusive brand – the qualities we believe a professional education provider should comprise and the qualities the College has upheld for over 40 years."


"We look forward to seeing you online next Tuesday 6 April for the latest asthma update. Register at acp.edu.au," said Dr. Kopanakis.
Media Contact: Kristy Ellery, Marketing and Communications Manager, 0447 722 225

About the Australasian College of Pharmacy
www.acp.edu.au
The Australasian College of Pharmacy has independently supported pharmacists for more than 40 years of pharmacy with quality CPD, and further education in the areas of business administration, management and leadership. The College provides pharmacists with easy-to-use CPD recording and learning plans, an extensive range of CPD content and post-nominals. Medication Management Review Stage One is also available.

References
1 Statistics provided by The National Asthma Council, 2021
2 The Pharmacy Guild of Australia, 2021, Asthma Management, FindAPharmacy, viewed on 30 March 2021 at https://www.findapharmacy.com.au/our-services/asthma
Articles you might be interested in