The National Guide to Community Pharmacy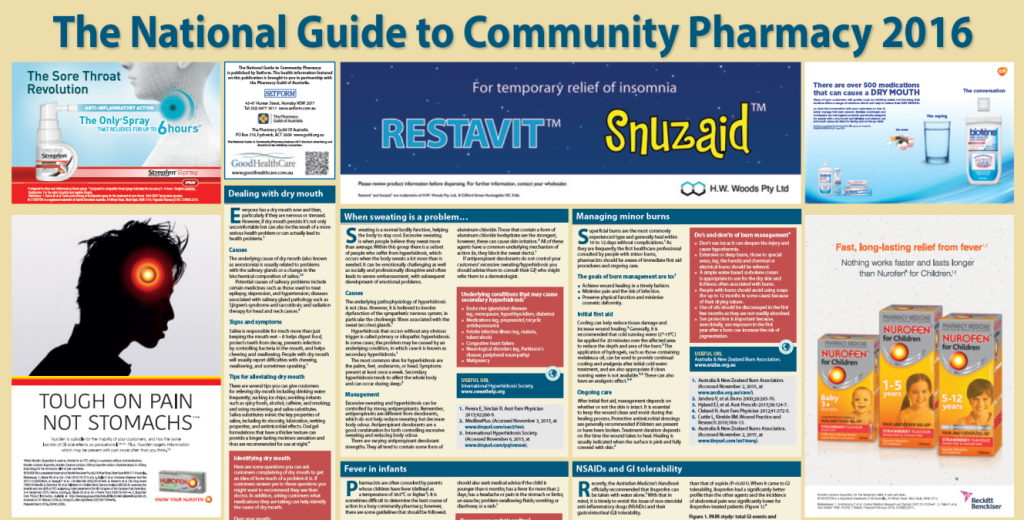 The National Guide to Community Pharmacy is an information wall chart providing essential advice to pharmacists on a range of common ailments.
It is published annually by Setform with the editorial support of The Pharmacy Guild of Australia.
The editorial focuses on the latest clinical guidelines together with links to key web sites which supply additional information and regular updates.
It is designed to be displayed in high traffic areas, seen by HCPs only, where it can act as a constant reminder about important methods of treatment.
The 2016 issue covers:
Managing Minor Burns
Hyperhidrosis
Fever in Infants
GI Tolerability
Pain Relief
Sore Throats
Insomnia
Codeine Addiction
Dry Mouth
The wall chart is supported by several advertising partners which represent some of the most important products within the Australian healthcare sector. Full details of these can be found at: www.goodhealthcare.com.au/pharmacy
Over 5,000 copies of the chart are distributed each year to pharmacists throughout Australia and it has become a vital resource in the dissemination of up to date information. In a recent survey 93% of readers said that they were interested in all of the editorial on the chart, and in 67% of cases more than 5 health care professionals would see the chart each week.
Here are a few of the comments received recently from our readers:
"The poster is displayed in the professional services department of our pharmacy, where five healthcare professionals will see it each week." Pharmacist Owner, NSW.
"Our chart is on display in the dispensary. As we are a pharmacy located next to a doctor's surgery, we have a number of healthcare professionals who will see the poster every day as well as our staff members." Pharmacy Manager, QLD.
"The poster supplies visual, factual information for pharmacists and staff to use as reference material. The advertised products are well known, reputable brands stocked and recommended by us." Pharmacy Buyer, NSW.
"We find the content of the poster very informative and all the articles are relevant to our pharmacy. We have no hesitation in recommending the advertised products to our customers." Pharmacist, VIC.
"The poster is easy to read and well set out. We constantly refer to all the advertisements when recommending products to customers." Dispensary Technician, SA.
For more information about the wall chart, and Setform's range of medical and pharmaceutical wall charts, go to www.setform.com.au
To read the information contained on The National Guide to Community Pharmacy please register at www.goodhealthcare.com.au
Articles you might be interested in